O
n September 28, 2008 SpaceX made history by putting the first commercial rocket into space. On this flight there was a small experimental communications satellite that after being blown up once, and re-designed twice, is now orbiting at 16,358 miles per hour with an apogee of 397 miles.
KSAT2
, my assignment, completed its mission and was considered a complete success.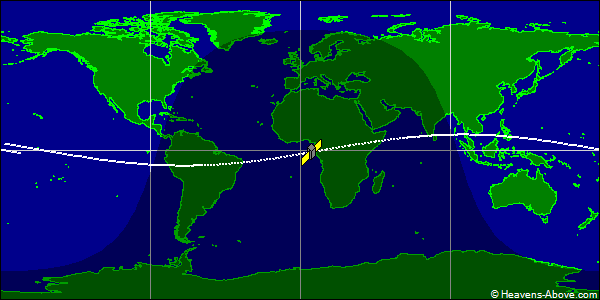 Where's KSAT2? Map updates every 5 seconds! (more)
I was employed for a year at Space Exploration Technologies as an Avionics Systems Engineer.  SpaceX is an aerospace company charged with making space flight "inexpensive and reliable."  Flight 004 of the Falcon 1 rocket– designed from the ground up by quite possibly the most talented group of engineers in the world, successfully made it to space. I was involved with several different aspects of this launch and other vehicles:
+Second Stage Thrust Vector Control System
+Lithium polymer battery development for all vehicles (F1, F9, Dragon)
+GPS Systems using the Javad GPS Receiver
+Recovery operations of the first stage including "TrackerNet"
+Electromagnetic interference emissive and susceptibility testing
+Payload Interfacing at a system wide level
My biggest contribution to the company was my work on over the horizon telemetry solutions. The project named KSAT was designed to utilize pre-existing satellite networks that were traditionally used for terrestrial phone and data services. My team was charged with turning those phone systems into something that could be used from space. In essence– using a cell phone in space.
The purpose of the project is to save the company hundreds of thousands of dollars in communications costs and solve issues pertaining to over the horizon communication. Unfortunately I cannot go into more detail about the project and it's adjunct subsystems due to its confidential and proprietary nature.